The balustrades we fabricate at Metro Steel look fantastic and meet Australian building regulations by providing a barrier to prevent people from falling at height on to the ground below or into a stairwell. Furthermore, they look aesthetically pleasing and provide a look that is sleek and contemporary.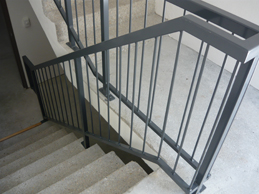 The experts at Metro Steel can supply you with cost-effective balustrade solutions and have worked with owners of prestigious private residences, housing developers, and car park owners, looking for stylish, affordable solutions. We can also provide hand railings and balustrades for external and internal stair cores, to help guide people safely up and down the stairs and around any landings or walkways, within multi-storey buildings, such as office, flats, and car parks. With safety at the forefront, our balustrades will give you peace of mind and look good on the job.
Anti-corrosion and painting
Balustrades have a lot to contend with in terms of withstanding the harsh Australian elements. In order to keep your balustrades and handrails looking pristine whatever the weather, we can provide a range of treatments depending on the material used to help prevent corrosion.
Custom designs
If you're looking for top quality balustrades, then look no further than Metro Steel. With decades of experience between us, we're not exaggerating when we say our balustrades are amongst the best you'll find in Brisbane.
Our purpose-built facility is filled with precision machinery for cutting, bending, welding, twisting, drilling, and polishing mild steel, stainless steel, and aluminium.
Whether you're looking for a simple design or more intricate balustrades then no problem. We've designed balustrades for domestic and commercial applications. Our carefully crafted balustrades provide the perfect finishing touch to raised areas and to balconies while safeguarding everyone's safety.
If you're in need of balustrades for your next project, then we can help. Contact Metro Steel today on 07 3204 1000 or drop by our facility at Kabi Circuit, Deception Bay.