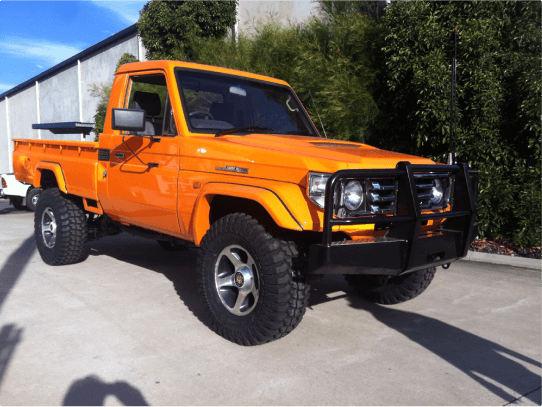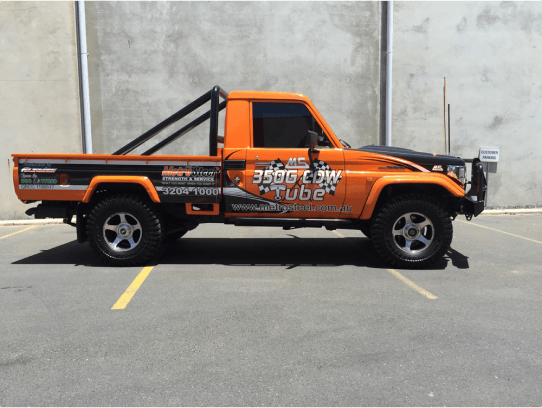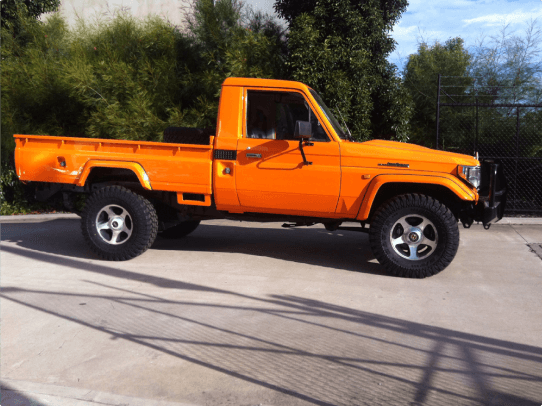 Engine:
Gen IV L98 6.0L V8
PWR Custom Radiator
Spal Motorsport 16" Thermo Fan
Dual Valve Springs with Titanium Retainers
Camtech Cam
ARP Rod Bolts
LS7 Lifters
Clevite High Volume Oil Pump
Custom Extractors with Dual 3" Exhaust
Custom Air Box (by METRO STEEL)
Landcruiser Ute
Mostly as a project for our Tradesmen but also to show customers what we can do, we bought a "Repairable Write Off" 79 Series Landcruiser Ute from the auctions & repaired it in our workshop. As you can see from the photos the Ute has been transformed into a great promotional vehicle for Metro Steel. As well as Engine & Gearbox transplant we have just finished the process of a custom Roll Bar to go in the tray as well as Rock Sliders. It still needs a "Tube Type" Front Bar, an Internal Roll Cage as well as a Coil Rear End are on the wish list as well. Watch this space for updates…
To find out more about how we went about building the Ute or if you would like further information about our Tube, then don't hesitate to contact us on 07 3204 1000.
If you're also interested in discussing a roll bar or roll-cage project with us, then pick up the phone or drop into our Deception Bay premises and speak with our friendly team.
Gearbox:
4L60E fully rebuilt with 2300 Stall Converter
Ask Us A Question
Quick Replies